The Writing On The Wall - Marilyn Howard





Remarkable story of a woman breaking through the glass ceiling
in the male-dominated 60s and 70s.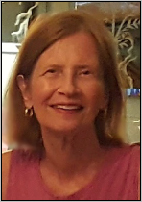 Marilyn Howard, Author

Marilyn Howard's determination to not wind up a housewife led to breaking through a glass
ceiling of seventy men at Grey Advertising and launching an innovative startup.
Her company, the first to central agency to connect business with freelance artists and writers,
thrived for over twenty-five years in the center of Manhattan. In1983, she was profiled by
ADWEEK Magazine of New York in a feature called the Dynamic Dozen–and placed first on their list
of the top twelve women in advertising, under age forty, that it identified as most likely to succeed.
Her pioneering company, Creative Freelancers Inc., became first on the internet in 1997.
The author holds a BFA in Advertising from Syracuse University.




Great Reviews!





Review by Nicole Pyles from Amazon's VINE VOICE


"I thought this was incredibly interesting and engaging…If you are a woman looking to be inspired
and want to break through your own glass ceiling (or whatever your limits may be), this is the book for you."

"An often engaging account of an eventful life, along with thoughtful meditations on
being a female entrepreneur

.

"

Kirkus Review



Review by Jamie Michele for Readers' Favorite — Very highly recommended


"Marilyn Howard delivers a strong and timely autobiography, and it's no wonder she was able to
fill a whole book with her stories. We're fortunate to have her share a span of decades, through
her early life, friendships, exciting stories as she traversed the globe, relationships, legal woes
and government foes, and motherhood. The latter was juggled with the dexterity of an octopus,
while her shooting star continued to rise and illuminate the Manhattan skyline she so dearly
loves. While reading this well-written, engrossing, and witty memoir, I often read bits of
advice out loud to my teenage daughter who enjoyed them as much as I did.
And honestly, if you can get a teenage girl to smile you're knocking it out of the park."



Other say...



"Candid, insightful page-turner."

"Just what I needed. Great book!"

"Her writing style is engaging..."

"I often take a lot for granted, as a woman in her 40s..."

"It's a memoir I will want to re-read later on."

Read the great REVIEWS



E-book and print: Amazon • BarnesAndNoble.com • IngramSpark

First chapter and TOC free to read online.






Arts • Business • Education • Internet
Memoir • Biography • Autobiography • Narrative Nonfiction • Women in Business • Sociology



HOME • SUMMARY • POSTS • REVIEWS • MEDIA
---

---